Denver is one of the fastest growing cities in the country, and its food scene isn't finding any challenges in keeping up. Its roster of restaurants continues to expand every day, so there's no shortage of options.
What we love most about the sustainable restaurants in Denver is that they aren't a trend. They're an integral part of the food culture. You'll also be hard pressed to find even an ounce of pretentiousness in the Denver dining scene, even at the priciest spots.
Keep this list close the next time you find yourself in Denver. You won't be disappointed.
DUO
 
Why we love them
When it comes to conscious restaurant concepts, Duo has taken a few new approaches that we think are extremely noteworthy. In 2017, they changed their business model and implemented a 2 percent Kitchen Livable Wage Surcharge. Added to your bill, 100 percent of this surcharge is divided amongst the kitchen staff based on the number of hours worked to help close the wage gap between front-of-house and back-of-house staff.
It gets better! Duo is also heavily involved in a variety of philanthropy efforts. They host six benefits annually and give to over ninety organizations each year that focus on education and the agriculture movement.
Needless to say, they are a company of action, not just words. Their menu revolves around farm-to-table cuisine that is focused around food cycles and seasonality in the Rocky Mountain region. The menu, coupled with the warm and inviting setting, make this the perfect place for a laid back brunch, a casual lunch, or dinner to celebrate a special occasion.
The menu
Even though the menu changes seasonally, there are a few classics that are simply delicious. You can't go wrong with any of the offerings, but take a look at the menu to see if they're serving the smoked salmon toast (fried egg, spicy greens, caper buttermilk, and pickled beets), or biscuits and gravy.
Price point
$$
Where to find them
2413 W 32nd Avenue, Denver, CO 80211
MERCANTILE DINING + PROVISION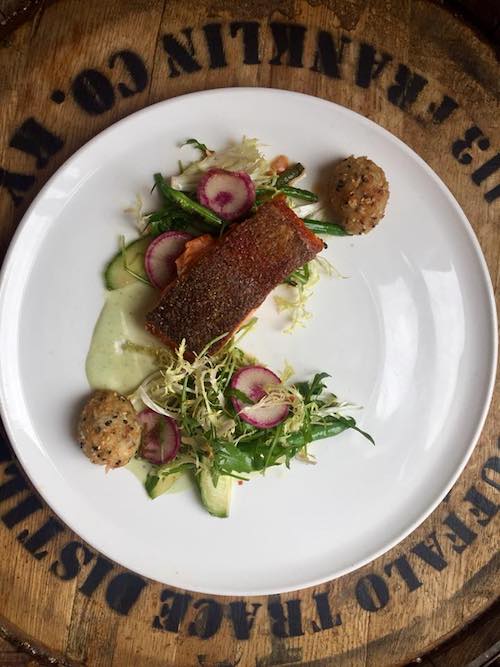 Why we love them
In 2007, Chef Seidel set out on a mission to create approachable, high-quality food that is void of pretentiousness and high price tags. And he has certainly accomplished that with Mercantile Dining + Provision. Located in Denver's LoDo neighborhood, this sustainable restaurant in Denver is known throughout the city as a top spot for enjoying amazing, conscious food.
Two years after opening the restaurant, Chef Seidel purchased a small farm outside of Denver called Fruition Farms. This move came from a strong desire to grow and source ingredients for the restaurant, and the farm is action-packed, raising Heritage Breed hogs, Italian Honey bees, fruits and vegetables of all kinds, and East Friesian dairy sheep. The transparency they share with guests about their sustainability practices and how the farm products reach the table is something we truly appreciate.
The menu
Like most great restaurants that allow the seasons to dictate their menu, there's always something new to try at Mercantile Dining + Provision. Regardless of the season, they always have several options for handmade pasta (vegetarian and meat), and they are all simply delicious.
Price point
$$
Where to find them
1701 Wynkoop Street, Suite 155, Denver, CO 80202
OLD MAJOR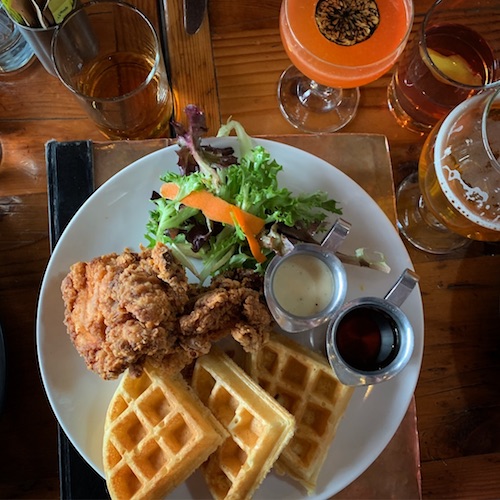 Why we love them
The team at Old Major found a way to perfectly combine house-made, locally-sourced ingredients with exceedingly excellent warmth and hospitality. The head chef and owner, Justin Brunson, was raised in a farming family in Iowa and spent his childhood gardening, hunting, and fishing. We think he must have been taking notes even back then. His agricultural roots are evident in the restaurant.
Old Major has its own in-house butchery and charcuterie program and uses the most sustainable seafood and ingredients that are sourced from local farms.
While the food is top-notch, there is no pretentiousness here. Old Major provides a warm and welcoming environment that's evident from the moment you walk through the door. We like to think of their cuisine as elevated farmhouse.
The menu
The Old Major charcuterie plate is always on the menu, and for good reason. The selections change daily, but they never disappoint. The majority of their menu is small plates, so it's the perfect opportunity to sample a bit of everything. If you're a carnivore, order off the Butcher's Pride section of the menu!
Price point
$$$
Where to find them
3316 Tejon Street, Denver, CO 80211
ROOT DOWN

Why we love them
Located in the midst of lovely, quaint residential homes in Northwest Denver, you'll find Root Down. This hip spot was created in a beautifully designed old garage that provides a really eclectic vibe. The food at this off-the-beaten-path gem is equally as unique. Their globally influenced seasonal menu focuses on organic, natural, and locally-sourced ingredients.
They also have their own on-site gardens for sourcing their own seasonal vegetables. This is one of those restaurants where meat-eaters, vegans, and gluten-free dinners will all be able to find a great dish to meet their unique dietary needs and cravings.
Root Down does a lot from a sustainable dining standpoint. This includes consuming 100% wind and clean energy, using all biodegradable cleaning products, selecting only paper products that are made from 100% post-consumer unbleached recycled paper, and certifying that all animal proteins are humane, pasture-raised, and utilize non-GMO vegetarian feed.
The menu
Their menus are constantly changing around the seasons, so pick a few small plates for the table and split a few entrees. There is so much goodness on the menu, and you will appreciate having as many "tastes" as possible. They're open for brunch, lunch, and dinner and also have an excellent happy hour!
Price point
$$
Where to find them
1600 W 33rd Avenue, Denver, CO 80211
URBAN FARMER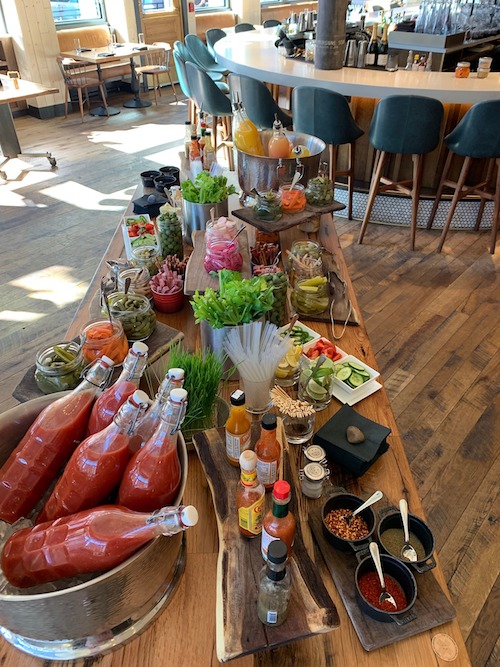 Why we love them
Imagine the union of a hardworking country farmer who marries a New York art collector. If they had a child, it would be Urban Farmer. This great space is the perfect combination of simple yet sophisticated (but not stuffy in the slightest), making it one of our favorite sustainable restaurants in Denver.
The restaurant has an in-house butcher shop, which means they use the entire animal and treat them with the highest level of respect. They also source sustainable poultry, seafood, and produce to create an array of flavor in all of their dishes.
Given their massive success, Urban Farmer also has locations in Portland, Cleveland, and Philadelphia, each offering the same cuisine and ambiance.
The menu
While there are wonderful options for all preferences, this place is a must-try for meat, fish, and seafood lovers! Start with the daily oyster selection and the seasonal local greens salad. From there, it is possible that you will have a hard time deciding between the entrees because there are so many amazing options. If you can't decide, consider the New Steak Tasting.
Price point
$$$
Where to find them
1659 Wazee Street, Denver, CO 80202