Summer is here, which means many of us are packing away our winter gear and bringing out our summer attire, swapping out boots and socks for airy open-toed sandals. Given that there are so many amazing options on the market, picking out the perfect pair can be overwhelming.
To help you explore some options, we're breaking down our favorite eco-conscious sandals that your feet (and Mother Nature) will love.
A quick tip: try not to get into the "I'll just buy one of each" mindset. Instead, step back and consider your needs. And, no, wanting on in every color isn't a need.
Indosole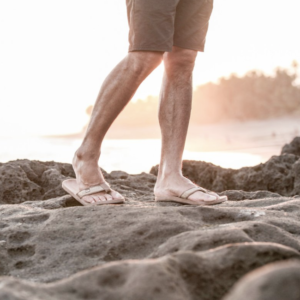 Product profile
Repurposed Rubber Tire Sole Footwear
Natural Materials for Uppers like Canvas, Banana Leaves, and Grass
B-Corp Certified
Crafted by Indonesian Artisans
Our picks
About the company
Indosole was born from an outstanding idea: preventing unwanted tires from polluting the environment.
After founder Kyle Parsons visited Bali in 2004 and purchased a pair of sandals made with soles repurposed from motorbikes, his mission was clear. He brought the same idea to California to help diminish the amount of tire waste that ends up in landfills. And we think that's very cool.
Everlane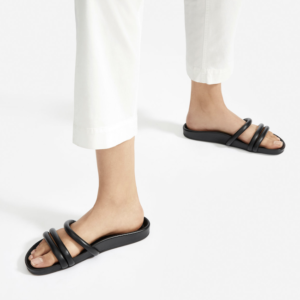 Product profile
Ethical Factories with Fair Wages, Reasonable Hours, and Environment
Radical Transparency: Disclosing the True Cost of Everything They Make
Our pick
About the company
Everlane is changing the way consumers think about shopping with their revolutionary "Radical Transparency" idea. This means that you will always know the true cost of each item they make.
They work closely with factories that employ strict ethicals in their wages, hours, and work environments. Therefore, you can feel confident that all of the items they sell have met or exceeded their exacting standards. That makes them one of our favorite choices for eco-conscious sandals.
Bhava

Product profile
Animal- and Cruelty-Free
Focused on Workers' Rights
Repairable Soles
Organic and Recycled Components
Our pick
About the company
Bhava has taken a staunch stand on animal rights, so while you may think our pick looks like snakeskin, rest assured that it is actually hand-painted embossed cork. Their entire line of shoes is thoughtful and feminine, and consumers constantly praise their comfort.
ABLE

Product profile
Economic Opportunity for Women
Ethical Fashion
Accountable: Transparency About Employment and Manufacturing Practices
Published Wages
Our pick
Why we love them
ABLE has some gorgeous sandals in their collection, many of which (including the Oliveira collection) come in a variety of colors. But shoes are not the only thing that ABLE is known for.
They offer a wide array of leather goods, handmade jewelry, clothing, footwear, and more. And all of their products adhere to their main focus: to offer economic opportunities for women artisans around the world.
Third Oak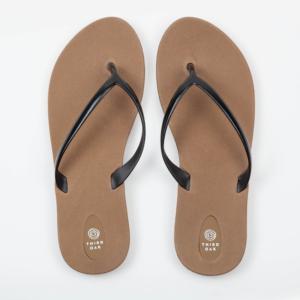 Product profile
Made in the USA
Bio-Based Material that is 100% Vegan
100% Recyclable
Cruelty-Free
Our pick
About the company
Balancing comfort and durability is tough, but Third Oak has managed to hit the ball out of the park! Their line of Scout flip flops comes in many different colors.
And because of their commitment to being eco-conscious, you can feel good about buying this eco-conscious sandal. They even offer to recycle old sandals you no longer wear!